This is the place you've been looking for! With over 2000 square feet, there is plenty of room to relax in this 11 year-old cedar log home which sleeps 11-12. Appropriately named by our then five year old, this exquisite mountain camp is private, yet not too far from Saranac Lake (21 miles), Lake Placid (30 miles) or Plattsburgh (35 miles).
The area boasts many attractions such as: hiking in the high peaks, swimming, boating, fishing, skiing and more. The boat launch and beach are minutes away from camp. A canoe, toboggan, movies, children's toys and relaxation await you and your family.
This is NOT a waterfront home - access to the beach is down the road from camp.
Note: Cell phone service may be limited in the Loon Lake area.

3 bedroom / 2 baths
Sleeps 10


$1300-1500 / week
winter $1000 - 1500 /week

Kitchen:
Living Room:
Extras:
Blender
TV
Washer / Dryer
Micro Wave
VCR
Fan (Ceiling in all BRs)
Coffee Maker
DVD
___ Air Conditioning
Dishwasher
___ Cable ___ DTV
Lawn Furniture
Stove ___Electric Gas
Stereo Radio
__ Cassette
Gas Grill
___ Cook top only Oven
CD Player
___ Charcoal Grill
___ Toaster Oven
Fireplace
Pots & Pans Dishes
Glasses
___ Woodstove
Cooking Utensils
Wood provided
Out Door Fire Pit
Bath Room:
Bed Rooms:
Boats
Tub
How Many: 3
Canoe
Shower
Bed Sizes: 1 king, 1 queen, 2 bunk beds (each lower bed is full sized with top bunk being twin sized), 1 pull-out couch in living room
___ Row Boat
___ Towels provided
Linens provided
___ Paddle Boat
___ Jacuzzi
No Linens provided (except)
Other: 4 kayaks
___ Whirl pool tub
___ Sheets
Life Vest
___ Hot Tub
Blankets
___ Boat Launch
Pillows
Where is it?
Mattress Pad
How is the swimming? Not on site - drive to beach
Bed Spreads/Comforters
___From a dock
___ Towels/Beach Towels
___Walk in
___ Good for small children
How is the fishing? Loon Lake
Other Comments:Drinking water from well- h2o softner, 2 telephones - 1 cordless
Beautifully maintained 10 year old Lindal cedar log home
NO PETS PLEASE! Sleeping Guests - 10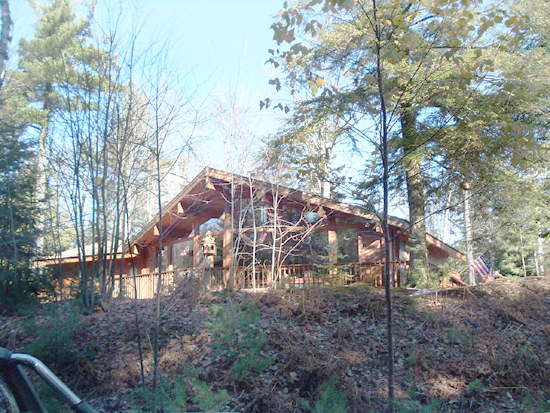 Adirondack Real Estate
Rob Grant & Associates
43 Broadway, Saranac Lake, NY 12983
Phone: (518) 891-3745