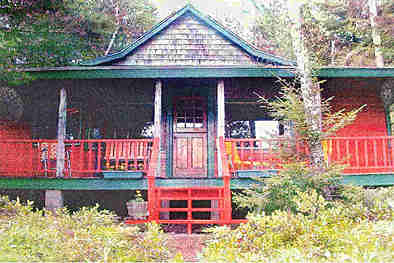 Located 2 1/2 miles down a single lane dirt road on the Upper Saranac Lake,
the jewel in the Saranac Chain of Lakes.
This lovely cottage is a perfect get-away spot.
Please bring your own bottled water.

Cozy, wooden interior and a large porch.
Sleeps 4

No housekeeping included

$1,200 / week


This is a non-smoking rental unit.
Please note:
The renter is responsible for housekeeping & the removal of all garbage/trash/recyclables accumulated during stay.
Kitchen:
Living Room:
Extras:
___ Blender
___ TV
___ Washer /____ Dryer
Micro Wave
___ VCR
Fan
Coffee Maker
___ DVD
___ Air Conditioning
___ Dishwasher
___ Cable ___ DTV
Lawn Furniture
Stove Electric ___ Gas
___ Stereo Radio
___ Cassette
___ Gas Grill
___ Cook top only ___ Oven
___ CD Player
Charcoal Grill
___ Toaster Oven
___ Fireplace
Pots & Pans Dishes
Glasses
Please be sure to bring your own bottled water
__ Woodstove
Cooking Utensils
___ Wood provided
___ Out Door Fire Pit
Bath Room:
Bed Rooms:
Boats
___ Tub
How Many: 2
Canoe
Shower
Bed Sizes: 1 queen, 2 singles in bunk room
___ Row Boat
___ Towels provided
___ Linens provided
___ Paddle Boat
___ Jacuzzi
No Linens provided (except)
Other:
___ Whirl pool tub
___ Sheets
___ Life Vest (please provide your own)
___ Hot Tub
Blankets
___ Boat Launch
Pillows
Where is it? 2 locations - dock and walk-in sandy cove w/small beach
Mattress Pad
How is the swimming? Excellent
Bed Spreads/Comforters
From a dock
___ Towels/Beach Towels
Walk in
Good for small children
How is the fishing? In the right spot with the right bait-excellent!
Other Comments:Lawn furniture: porch: 2 seat wooden bench with back and 1 lounge chair.
Well behaved pets only - please! Please be sure to bring your own bottled water.
Rob Grant & Associates Real Estate, 43 Broadway, Saranac Lake, NY 12983
Call for more Information
e-mail Rob Grant & Associates Real Estate
Phone - (518) 891-3745